Kareena Clark (formally Lee)
Having recently retired from competitive swimming after a medal winning performance at the Tokyo Olympics, Kareena will utilise her vast experience to oversee our Squad Program.
Initially she will provide a link between our Junior and High Performance Squads ensuring there is a level offered for all swimmers.
From Kareena herself… I am an Australian Olympic marathon swimmer with drive, determination and ambition to succeed. I have a proven track record of delivering results in high-pressured situations. I value commitment and hard work whilst recognising many swim for general fitness or for the social aspect.
In partnership with my athletic journey, I am a qualified primary educator, swimming coach, lifeguard, and I am currently studying to become a qualified athlete wellbeing specialist.
John Rodgers (JR)
John Rodgers or 'JR' as he is known in swimming circles, is a Platinum Licensed Coach with extensive international experience including four Olympic Swim Teams as well as numerous Commonwealth Games, World Championship Swim Teams and has been named Australian Swim Coach of the year 3 times. He drives our competitive elite swim program and challenges athletes through a balance of quality training and endurance.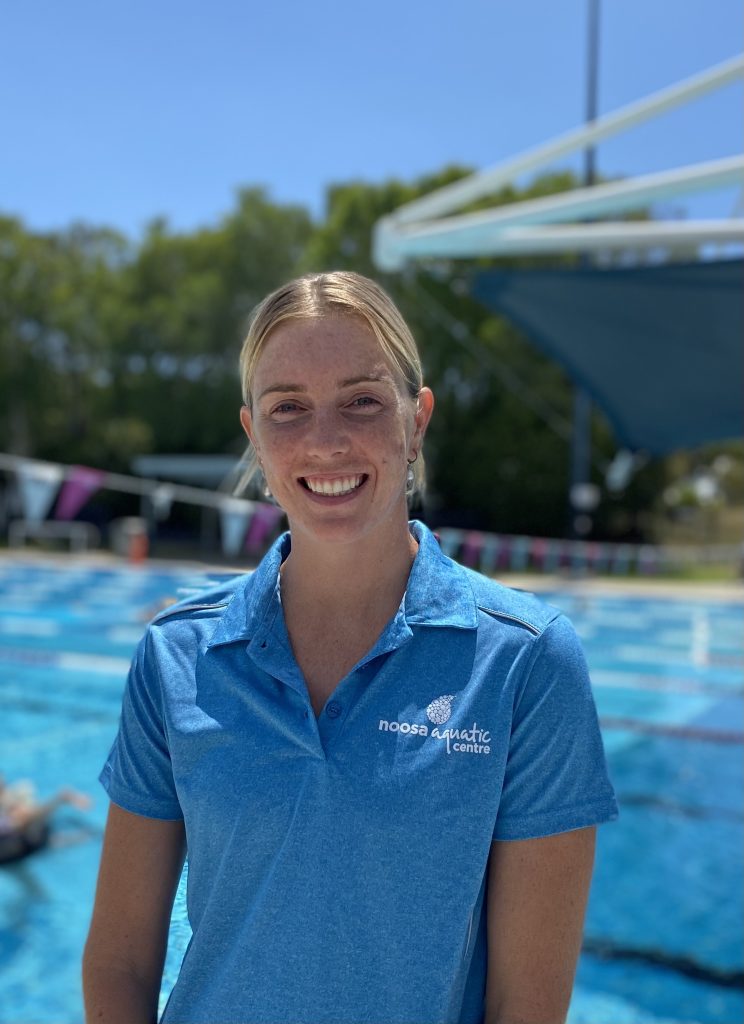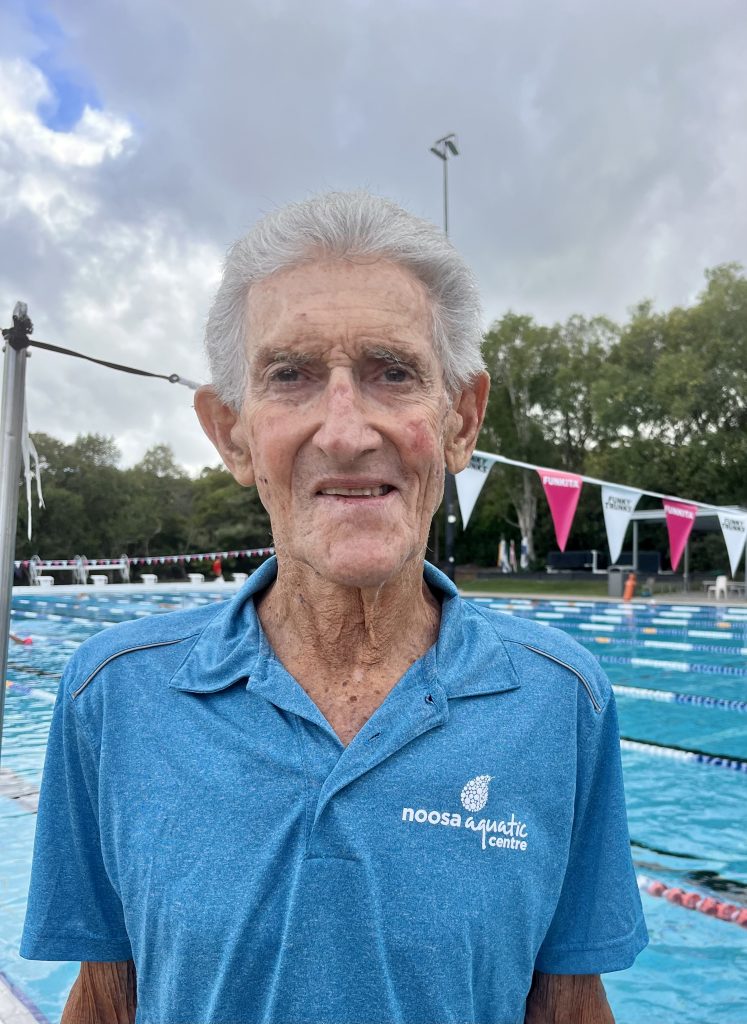 Belinda Granger
I have a Bachelor of Human Movement (Sydney University), have been a Physical Education teacher for 12 years and former professional Triathlete for 18 years with 15 Ironman Distance titles. I a member of the Australian Ironman Hall of Fame and I've been living in Noosa now for 18 years so it feels really great to be able to give back to a community that has given me so much throughout my triathlon career. Being a teacher at heart, I am really looking forward to coaching this squad of amazing teenagers and not only installing many of the values I have been taught over the years but also emphasising fun and fitness as a way of life, especially here on the Sunny Coast.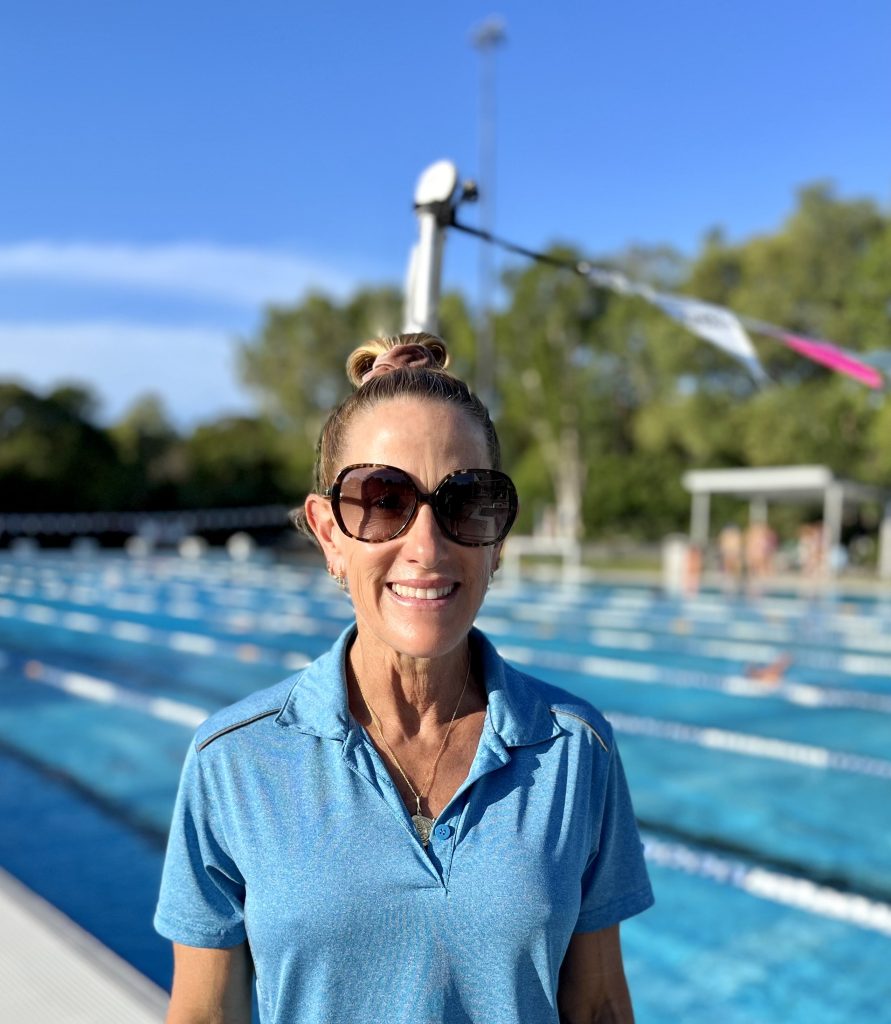 Sally Evens
I have been a swim coach for 25 years and the last 19 working at NAC. I have coached children from seven years through to adults, incorporating all levels of abilities including learn to swim, pool competition, surf and triathlon. I really enjoy teaching people that swimming can be broken down into working on different skills utilising specific drills. Then bring it all together to make their swimming enjoyable, easier and more efficient. Whether you are learning to swim or for general fitness or to refine your stroke I can help you.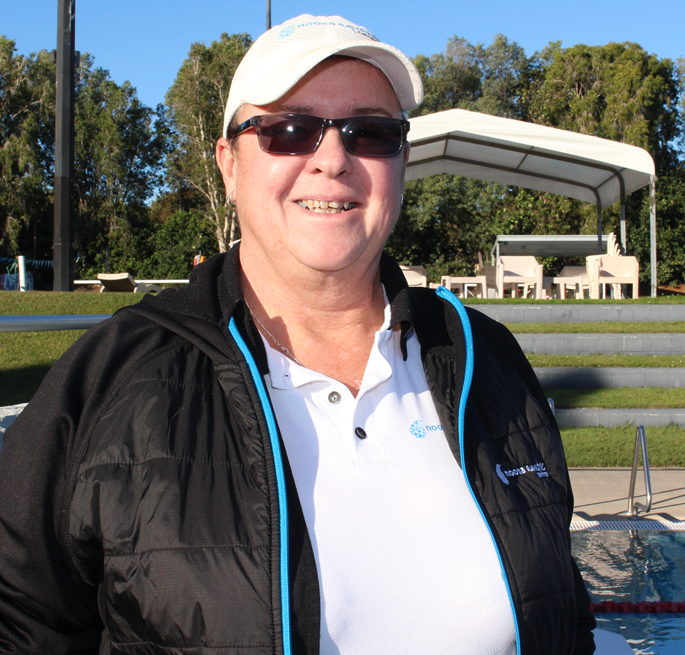 Lina Young
My swimming career started over 20 years ago. After teaching my son to swim, sparking my passion to teach others, which still drives me today to attend swim conferences to further improve my skills and knowledge. Last year I was the recipient of the AUSTSWIM 2020 Queensland State Award of Excellence for Teacher of Swimming & Water Safety.
I am a qualified Coach and have been teaching and coaching at the NAC for the past seven years. Teaching all ages and abilities from basic foundations to advanced stroke correction. Previously I gained my experience from coaching at various aquatic centres and beaches in Perth.
I love helping children improve their stroke technique and giving them a feel for the water. It is so rewarding to see individuals develop in their swimming abilities and go on to be great swimmers. I love to help them achieve their personal goals whether for competition or to use these skills in other water related sports.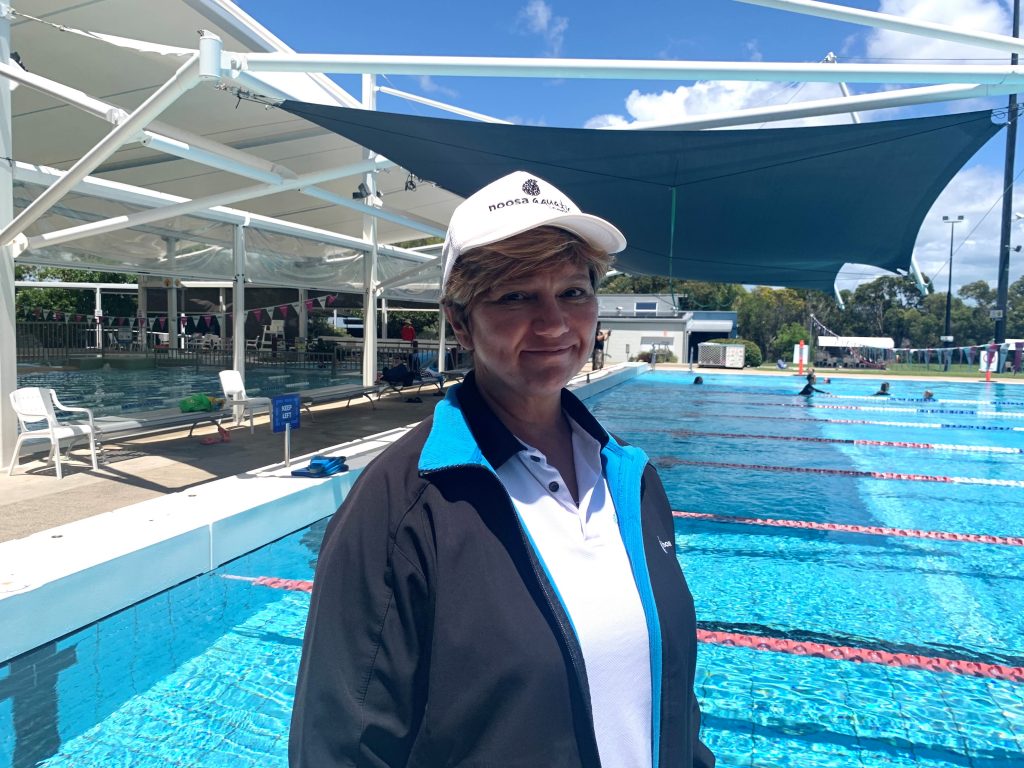 Catherine White
I have coached at the NAC for the past ten years, with previous experience at other aquatic facilities. Through my qualifications and experience, I am qualified to coach a range of abilities from fundamental squad skills to advanced stroke correction. My partner and I are 30 year locals and our three children have been involved in the local surf lifesaving clubs and swim clubs for many years. They started as nippers and now compete in elite competitions, such as the Nutrigrain Iron Series and have represented Australia. It all started with swimming lessons at the NAC! My passion is to provide an enjoyable and rewarding environment, so each child's needs are met to reach their swimming goals.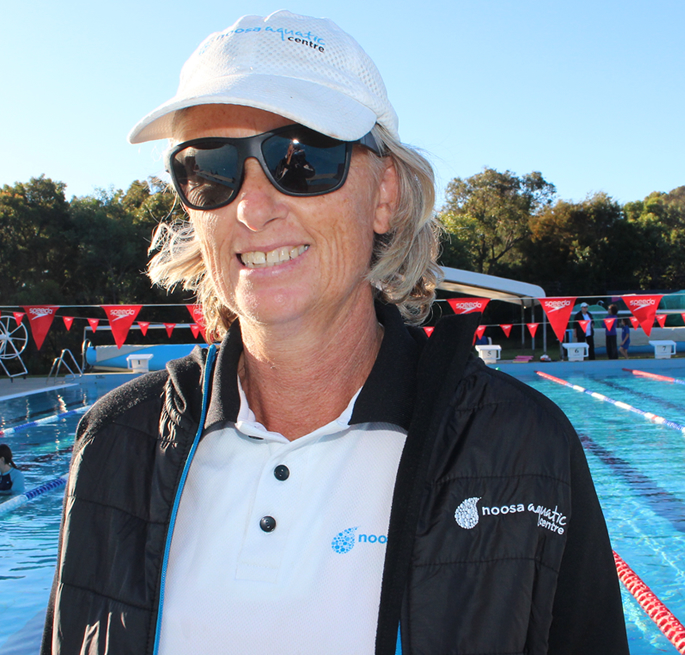 Jan Croft
I have been involved in swimming my whole life first as a competitive swimmer in early 1960's, open national 800 mt winner 1961 and 1962 and Commonwealth Games Trials. I retired and started swim coaching and teaching for a few years, then the late 80's I went back to swimming and also found the love of triathlons with a win at world age group champs in 2000 in Perth Olympic distance and did the Hawaii Ironman twice. I have been coaching at the NAC since late 2005 and absolutely love coaching my masters squads. I especially love coaching the masters and interacting with them.  Because of my masters history in pool and open water I understand their goals, it's also such a great atmosphere at the NAC in all squads.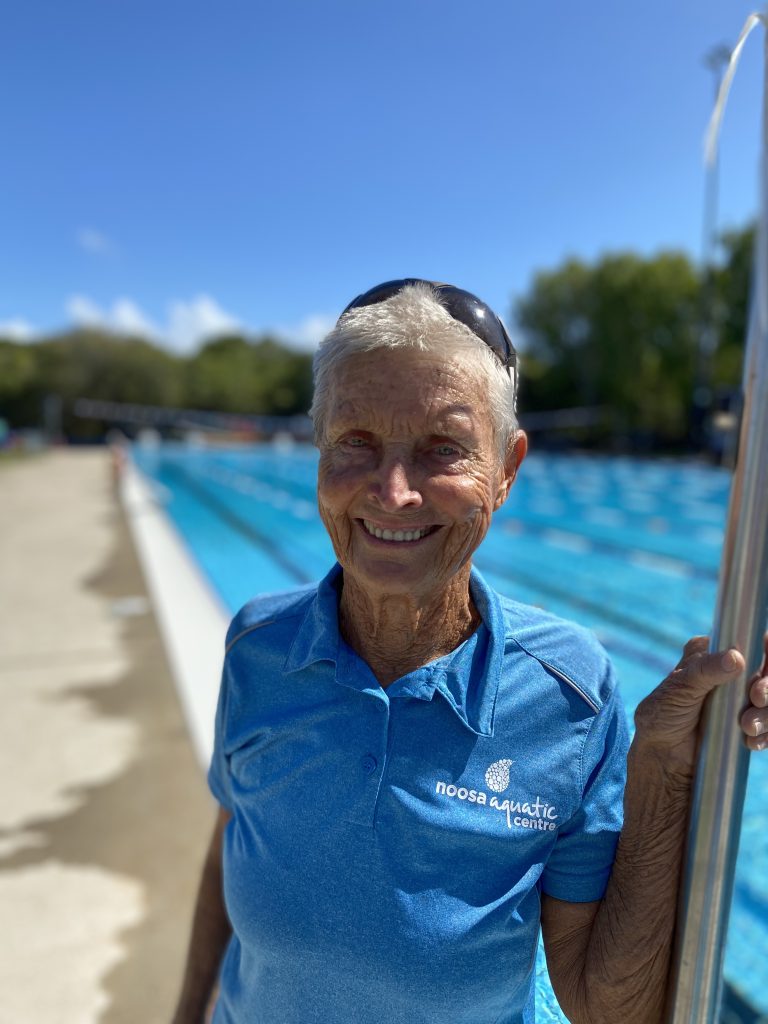 Nick Croft
I have been coaching swimming and more so, adult, masters and Triathletes since 1995 following on from a successful professional Triathlon Career, winning 35 events and the Noosa Triathlon twice.
I have a passion with the water and love to see adults progress with their fitness and confidence with the squads on offer at the NAC, which offers a great fitness swim program and caters to anyone that has the desire to improve general fitness or get ready to tackle an event.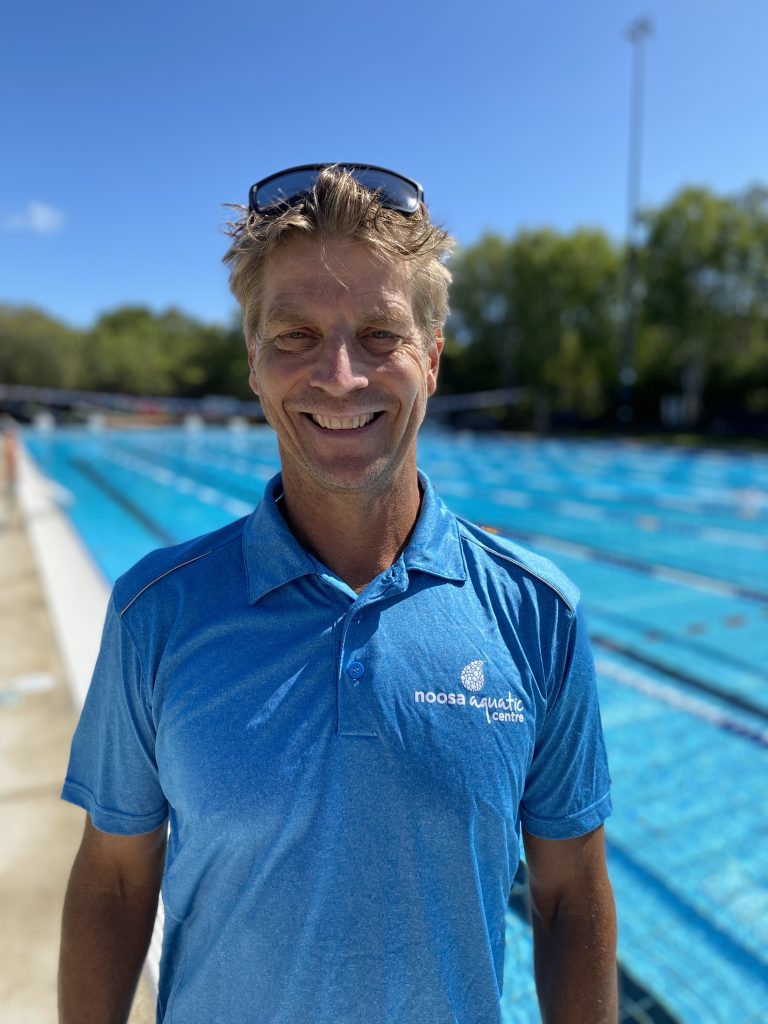 Max Pettigrove
I have been working as a swim coach here at the NAC since the Centre opened over 21 years ago.  I have a swim background and had coached at Cooroy before making my way over to the NAC.  I love that you can do my squads with little or no fitness to start.  Most of the awesome adults I get to train have different goals but always get something out of squad.  They may be training for an event, not necessarily a swim only event, it may be general fitness, injury rehabilitation or a social base to keep fit.  Whatever their goals I really enjoy helping them stay happy and healthy. Some adults I have trained here since the day it opened and some who are here for holidays I meet for the first time every week- love the NAC!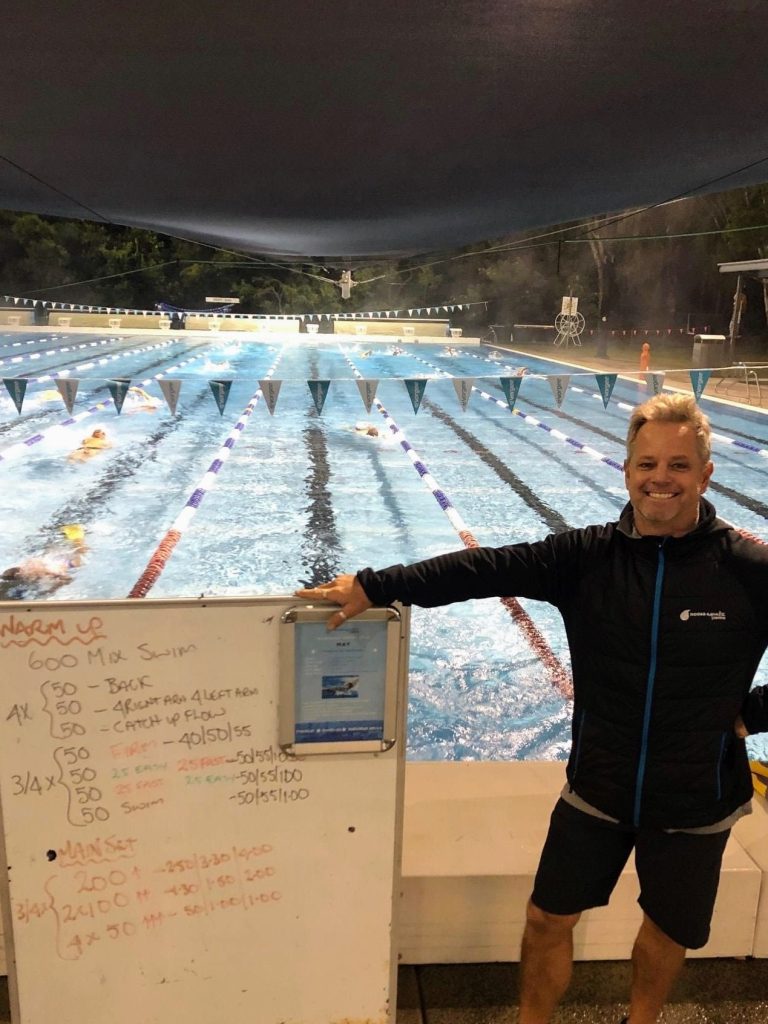 Andy Muller
Andy has recently moved to Sunshine Coast from Perth, WA where he was coaching swimmers at all levels, beginners to Olympians, from Junior to Adults.
His passion is to help everyone achieving their goals, whatever they might be.
Technique, good aerobic base and fun are in the centre of Andy's attention.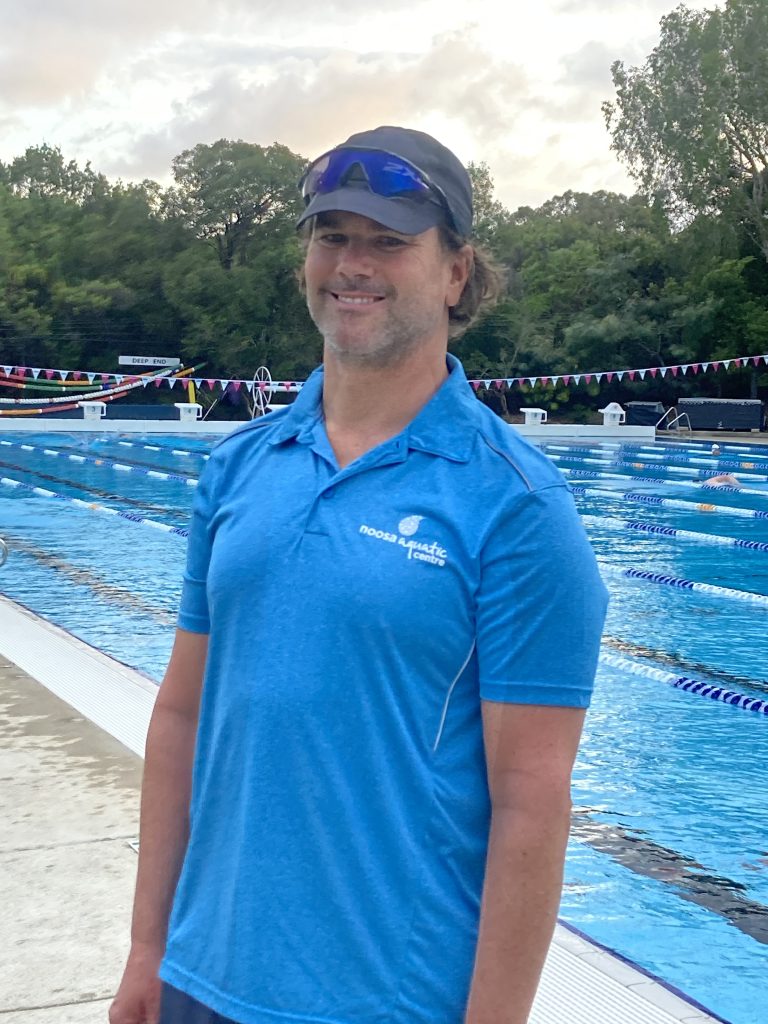 Group Fitness Instructors
Georgina Madison
I love working in a small facility where you get to know everyone personally. I am keen to assist people to become aware of their posture, body alignment and movement patterns, and facilitating them in achieving changes towards injury prevention and better functionality in day-to-day activities. My passion is assisting older patrons become as fit and strong as possible to live an active and healthy life.
Kirsten Hackney
Hi everyone my name is Kirsten and I'm a proud mother of my daughter Scarlet, a Personal Trainer and an Aqua Instructor. You will find me putting everyone through their paces either in the Gym or on the Poolside. I've been in the Fitness industry for over 20 years and I love my job as they say "The only way to do great work is to love what you do".
My passion is working as a team with my clients and helping them succeed in achieving their health and fitness goals whatever they maybe. I truly believe that the power of positivity can help you do anything you set your mind to. So come and say "Hi", I'd love to be part of your fitness journey.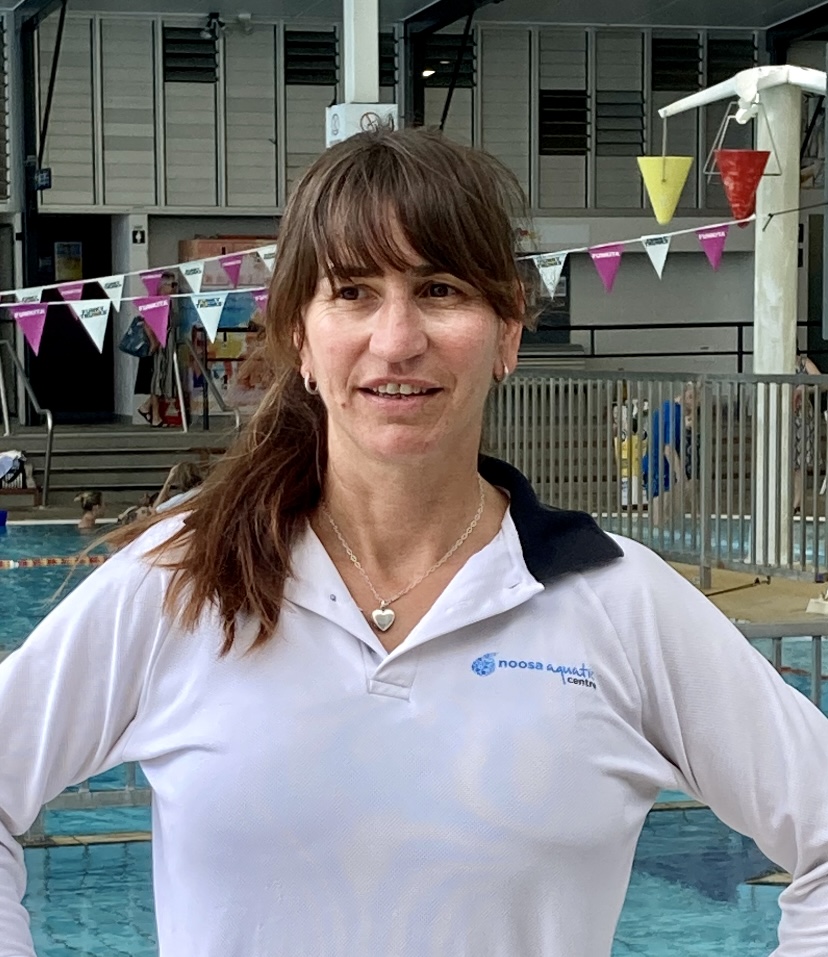 Linda Taylor
I have been teaching Aqua Aerobics classes on the Sunshine Coast for over 10 years. As well as presenting Aqua masterclasses, I have organised fundraising Aqua Day events. Gymstick H2O is a firm favourite program for me to instruct. I continually update my skills (attending International conferences and workshops), keeping routines and music fresh and fun so as to deliver the best outcome for all participants, whatever their fitness level. When I am not by pool side, you'll find me at the gym, on the golf course (work in progress) or volunteering.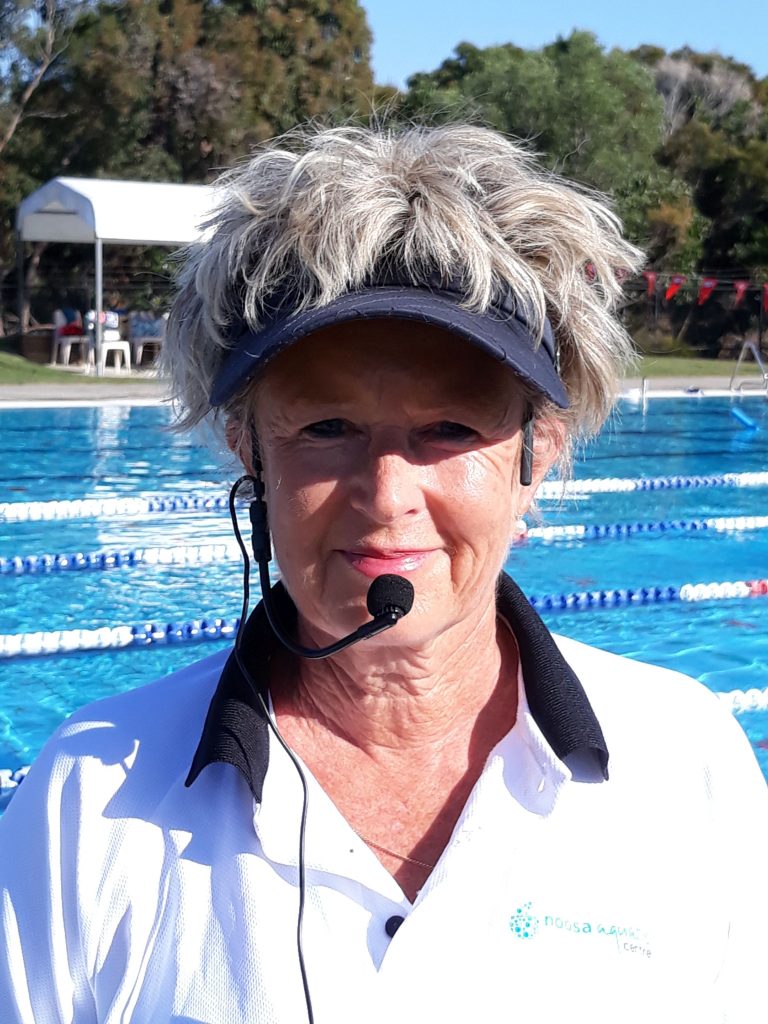 Sam Mc Taggart
I have been in the Fitness Industry for 17 years, joining the NAC 6 years ago teaching Aqua Aerobics. Prior to that I worked at Curves Ladies Gym for 10 years. I am a qualified Learn to Swim Teacher, Personal Trainer and Group Fitness instructor. I love working with people, seeing them happy keeping fit and enjoying themselves.
Paula Preston
I have been in the health and fitness industry for over 30 years. I started out teaching aerobics in my late twenties and then diversified into more of a health and wellness role. I currently work as a qualified Kinesiologist, Reflexologist and Massage Therapist. About 15 years ago I fell into teaching Aqua all around the Sunshine Coast and found that I absolutely loved it; from putting the class together to creating the music and delivering what I always hope is a fun, social and inspirational class to the participants.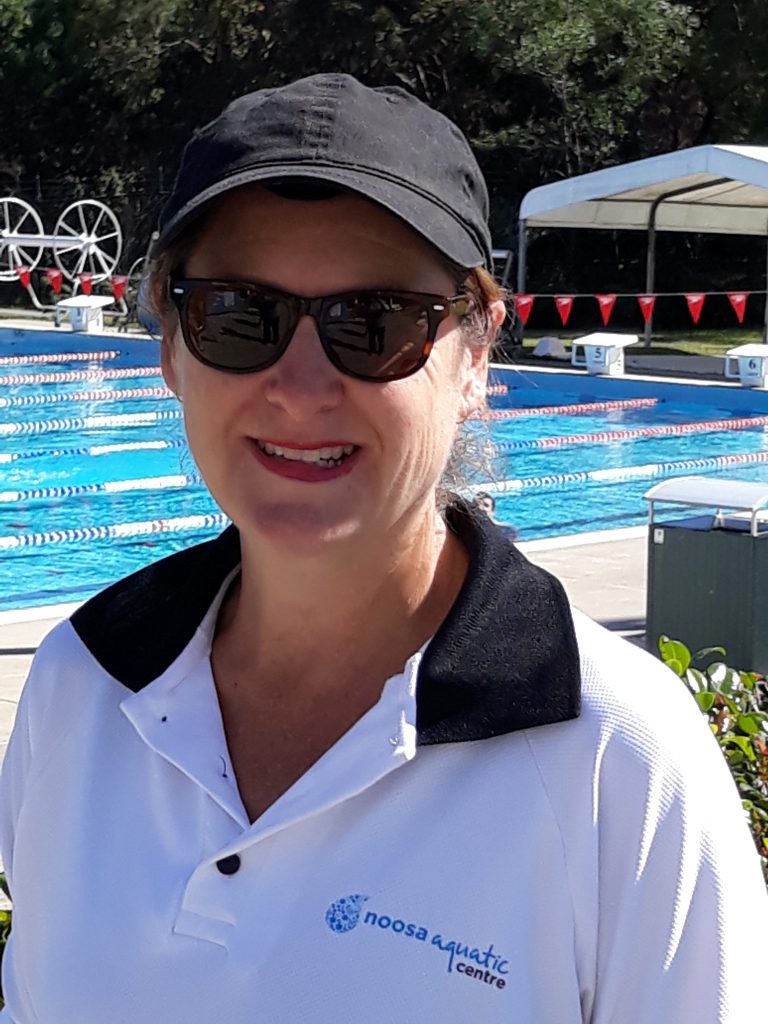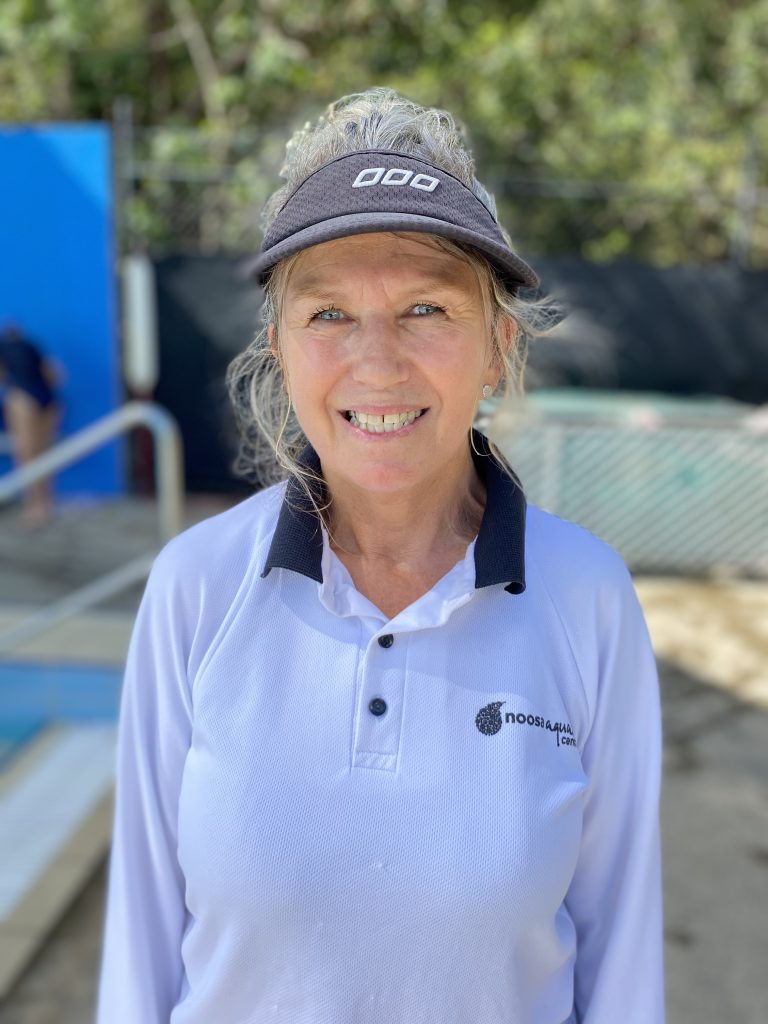 Diyan Curley
I have been working across the Sunshine Coast in the fitness industry for several years now and absolutely love our gorgeous part of the world. My qualifications include a Cert 3 in Fitness, Aqua instructor, Aqua Zumba Instructor, Fully Qualified Zumba Instructor, Strong Nation instructor, Accredited Punchfit Boxing trainer, Step Fusion, Dance fusion, Hiit Training and group training. There is nothing more important to me than seeing clients achieve their unique goals no matter how large or small. Having a client come to me with wonderful stories of how their life has improved in many aspects just makes my day and I'm so happy to be a part of these wonderful people's fitness journey.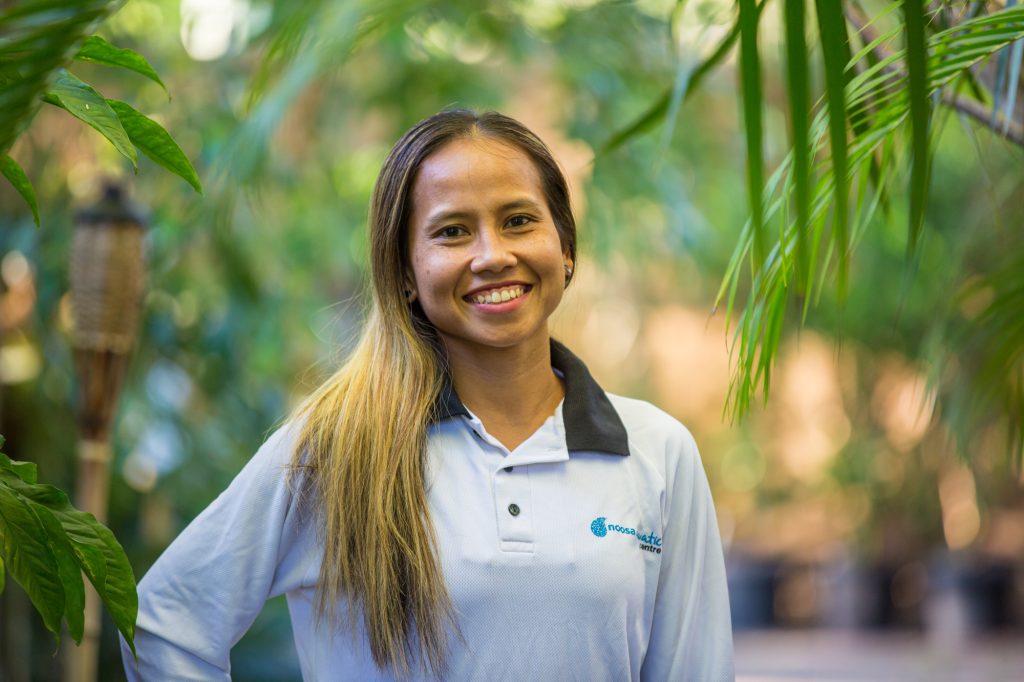 Vitor Vieira E Souza
In 2009 I became Bachelor of Sports Science at a Brazilian University. I have the privilege of working in the fitness industry for the last 15 years. My first contact with Water Aerobics occurred while I was studying at university and I realise it would suit my grandmother's needs very well so I introduced it to her. What I love about aqua classes is it gives me the opportunity to have a very positive impact on the community's health – the water is such an amazing tool for it. I have been living on Sunshine Coast for 12 years and I love surfing, specially at Noosa points.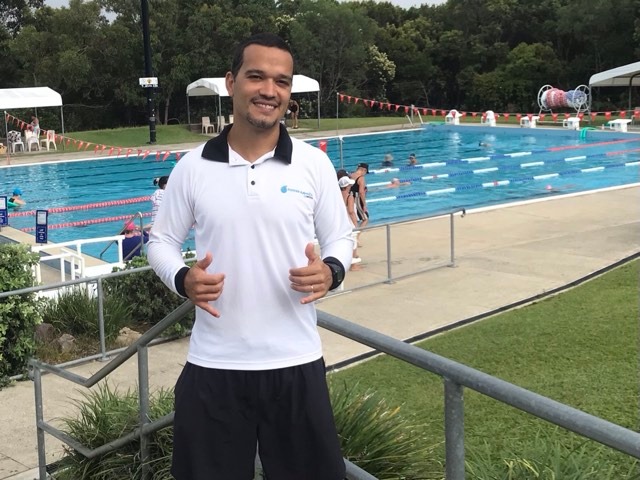 Alex Main

In addition to being a Personal Trainer I am also a Sports Massage therapist and Bachelor in Sports Science with over 12yrs experience. My love and fascination of discovering new ways to train the body combining a holistic approach to health and fitness has helped to achieve outstanding results for my clients. As a mother and pre- and post-natal trainer, I am passionate about women's health and gaining confidence through movement and exercise so that my clients can feel empowered and motivated to do more of what they love.