Develop your skills, technique and endurance in the water with The NAC water programs. Work with a group under the watchful eye of an NAC coach, and benefit from their wealth of knowledge in swim, surf and triathlon.
This is open to all levels and ages, with a focus on triathletes, seniors and masters looking to tweak and improve their technique.
This program provides flexibility and ideal for budding athletes allowing them to swim in competitive environments locally and nationally. The program is also beneficial for those looking to improve their general fitness, or as a complementary training for other sporting activities.
JUNIOR SQUAD PROGRAM
It's fantastic to welcome you all back. Things are slowly returning to what we would call normal with familiar faces coming through the doors again.
For those who are unaware Graeme Brewer from Noosa Swim Squads has finished his contract with the NAC and we are proud of his achievements over the last 7 years. We thank him for his efforts and wish him well for the future.
There are exciting times ahead while we search for the right person/people to shape our Junior Squad Program. In the interim whilst this occurs we will be delivering a slightly revised program. We encourage participants to decide for themselves which session suits their needs.   
Platinum: 3.30 – 4.30pm   25mtr pool
Flexible 1-5 times per week
Fun, fitness and endurance
Stroke correction
Consolidate dives, turns, starts and finishes
Intermediate: 5.30 – 7am/4.30 – 6pm   50mtr pool
Aimed at 2-5 times per week
Greater fitness and endurance
Surf skill focus
Improving efficiency through stroke technique
Senior: 5.30 – 7.30am/4.00 – 6.30pm   50mtr pool
5 + times per week
Tailored sessions
Still water program
Focused on athletes aiming to compete
Train with one of our experienced coaches…
John Rodgers (JR)
John Rodgers or 'JR' as he is known in swimming circles, is a Platinum Licensed Coach with extensive international experience including four Olympic Swim Teams as well as numerous Commonwealth Games, World Championship Swim Teams and has been named Australian Swim Coach of the year 3 times. Not to mention heading off to his forth Olympic Games next year as an Open Water 10 km swim coach. He drives our competitive swim program and challenges athletes through a balance of quality and endurance.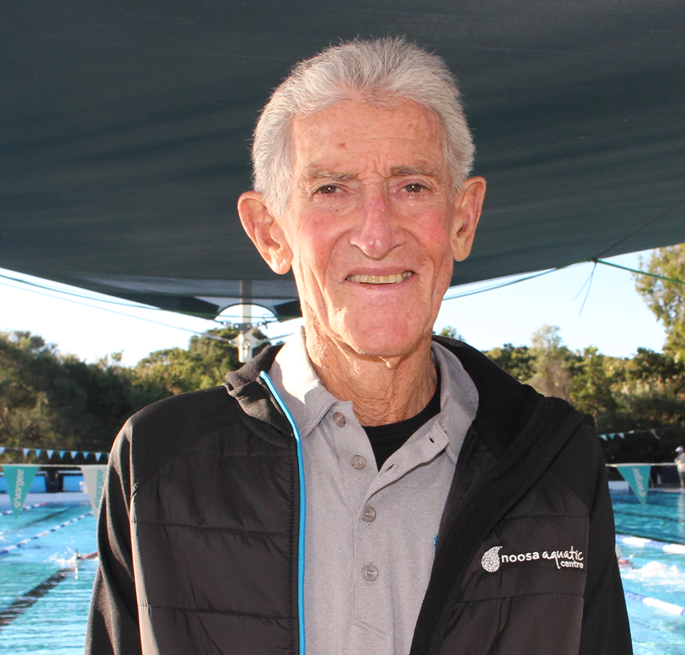 Josh Minogue
I am currently the head coach at Sunshine Beach SLSC and have been involved in Swimming and Surf Sports my entire life. I have been part of Australian national level teams and competed internationally in swimming and surf sports since the age of 13.
Once I switched to surf sports in the 6 years before retiring I spent 6 seasons in the Kelloggs Nutri-Grain Ironman Series; had one win and 3 podium finishes in the Coolangatta Gold and won 30 open medals at the Australian Championships. My goal in coaching is to make a difference to these young people's lives both in and out of the water, by helping them take ownership of their training. I am about hard work and having integrity in what you do; and hopefully have a lot of fun along the way.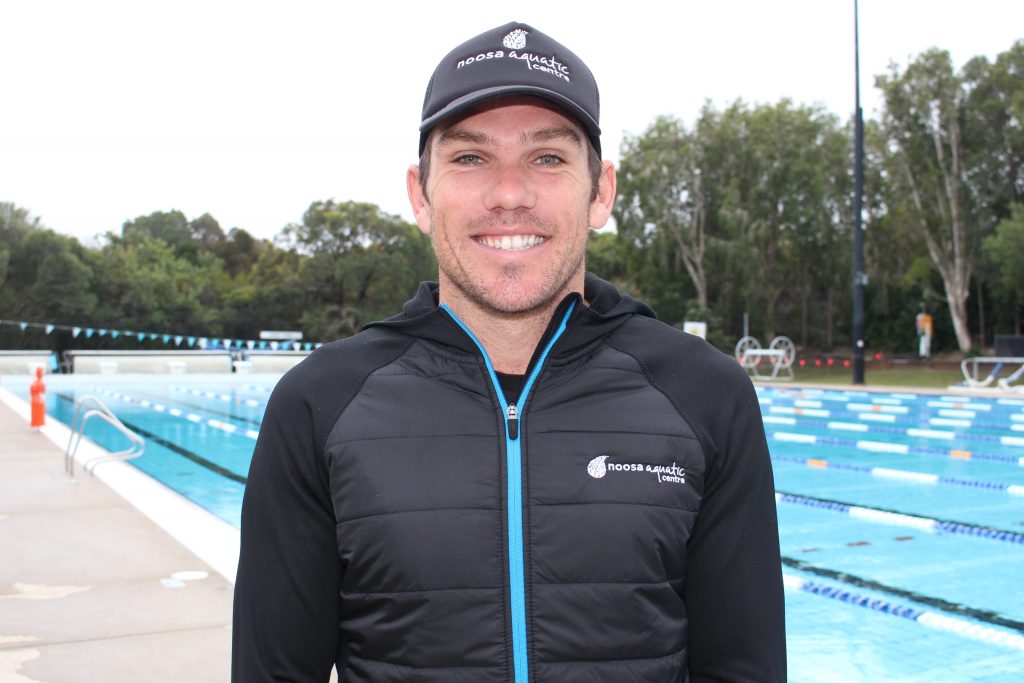 Belinda Granger
I have a Bachelor of Human Movement (Sydney University), have been a Physical Education teacher for 12 years and former professional Triathlete for 18 years with 15 Ironman Distance titles. I a member of the Australian Ironman Hall of Fame and I've been living in Noosa now for 18 years so it feels really great to be able to give back to a community that has given me so much throughout my triathlon career. Being a teacher at heart, I am really looking forward to coaching this squad of amazing teenagers and not only installing many of the values I have been taught over the years but also emphasising fun and fitness as a way of life, especially here on the Sunny Coast.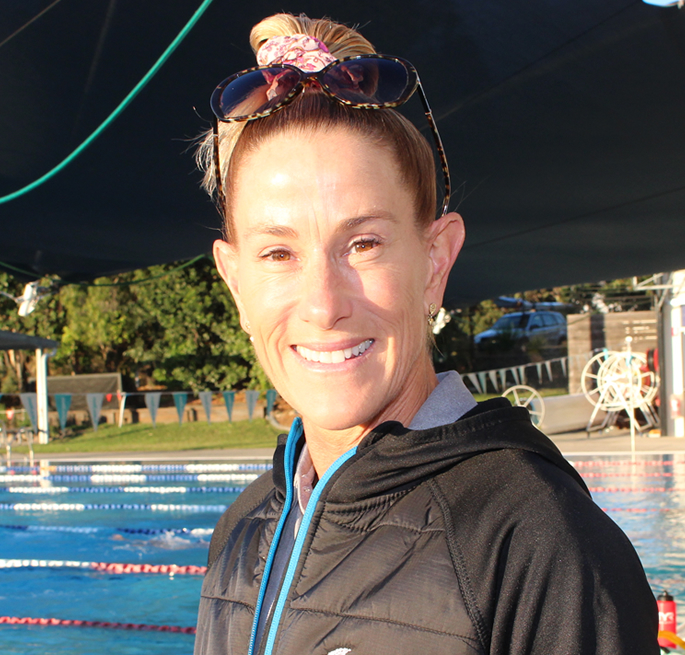 Tim Mandeville
I have 25 years coaching experience including the Noosa Aquatic Centre Junior Learn to Swim Program for 3 years. Currently I am coaching at Noosa Heads Surf Life Saving Club for ocean swimmers including masters. I love giving kids the confidence to get excited about their water sports!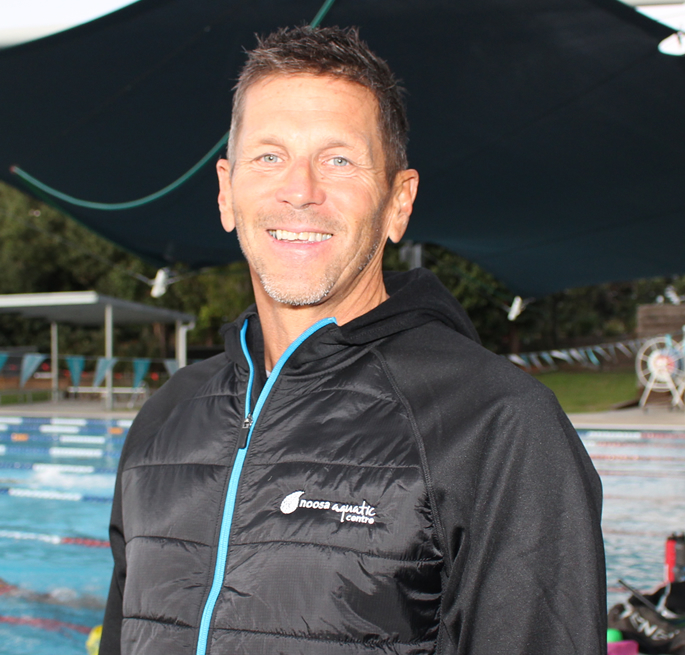 Sally Evens
I have been a swim coach for 25 years and the last 19 working at NAC. I have coached children from seven years through to adults, incorporating all levels of abilities including learn to swim, pool competition, surf and triathlon. I really enjoy teaching people that swimming can be broken down into working on different skills utilising specific drills. Then bring it all together to make their swimming enjoyable, easier and more efficient. Whether you are learning to swim or for general fitness or to refine your stroke I can help you.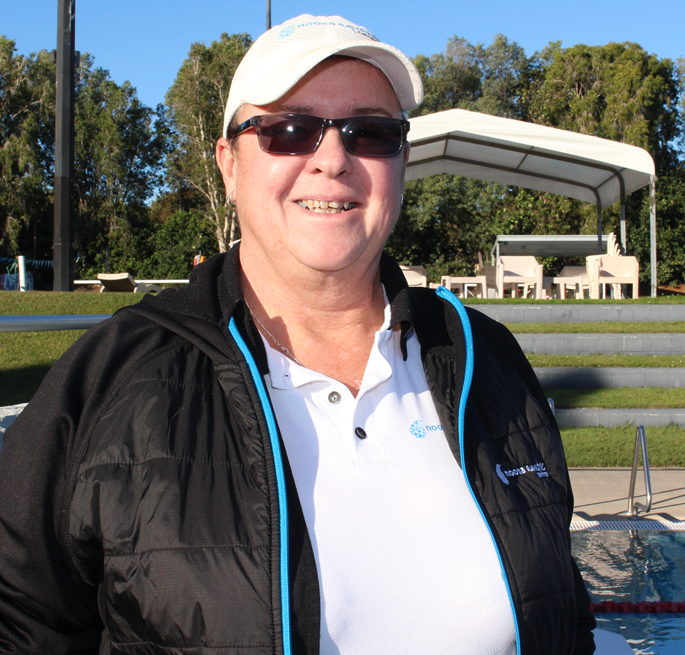 Catherine White
I have coached at the NAC for the past ten years, with previous experience at other aquatic facilities. Through my qualifications and experience, I am qualified to coach a range of abilities from fundamental squad skills to advanced stroke correction. My partner and I are 30 year locals and our three children have been involved in the local surf lifesaving clubs and swim clubs for many years. They started as nippers and now compete in elite competitions, such as the Nutrigrain Iron Series and have represented Australia. It all started with swimming lessons at the NAC! My passion is to provide an enjoyable and rewarding environment, so each child's needs are met to reach their swimming goals.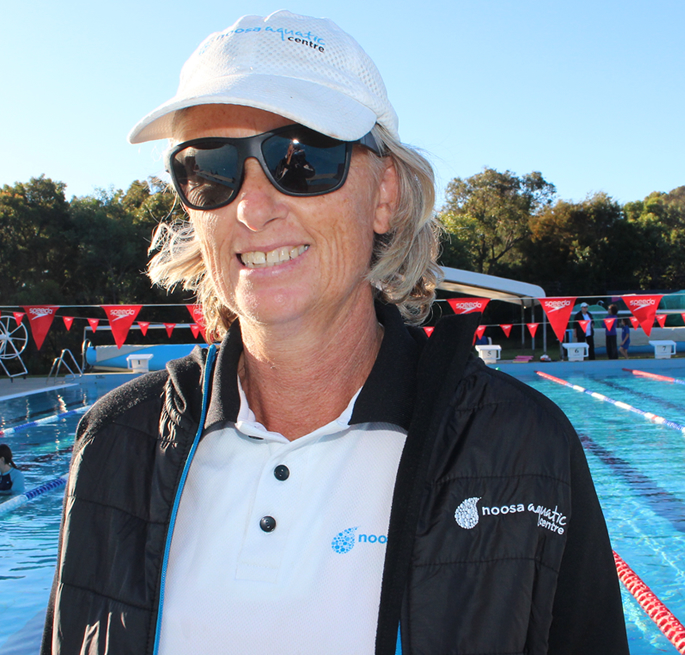 | | | | | | | |
| --- | --- | --- | --- | --- | --- | --- |
| Time /Day | MONDAY | TUESDAY | WEDNESDAY | THURSDAY | FRIDAY | SATURDAY |
| 5.30am                                  50m Pool                   (120mins) | John Rodgers (JR) | John Rodgers (JR) |   | John Rodgers (JR) | John Rodgers (JR) 25m Pool |   |
| 5.30am                                  50m Pool                   (90mins) | Ciro Ramalho | Ciro Ramalho | Ciro Ramalho | Ciro Ramalho |   Ciro Ramalho      25m Pool  |   |
| 7.00am                               50m Pool                     (120mins) |   |   |   |   |   | John Rodgers (JR) |
| 8.30am                                 50m Pool                     (60mins) |   |   |   |   |   | Sally Evens |
| 3.30pm                                25m Pool                  (60mins) | Catherine White | Sally Evens | Sally Evens | Catherine White |   |   |
| 4.30pm                                     50m Pool                 (90mins) | Belinda Granger | Ciro Ramalho | Belinda Granger | Ciro Ramalho |   |   |
| 4.00pm                                  50m Pool                 (120mins) | John Rodgers (JR) | John Rodgers (JR) | John Rodgers (JR) | John Rodgers (JR) | John Rodgers (JR) |   |
Aqua
Traditional Aqua class applying the water's resistance using different equipment. All ages and fitness levels welcome. 25m pool.
Aqua Deep
This is a more challenging class which utilises buoyancy belts and pool noodles to intensify the movements. Still a low impact fitness option, this class is held in the 50m pool.
Active Aqua
A more intense workout aimed at the younger and fitter participant.  Great for burning fat and strengthening the body. Held in our 25m pool.
Aqua H20
A More intense Aqua workout using "Gymsticks" to add a strong resistance component to the clasic Aqua class.  Join Linda for an early start to your Sunday and feel great for the rest of the day! (Maximum 20 participants) 
Ageing Well Noosa
This is a 10 week pre-paid program for seniors new to exercise. Not open to members.
Circuit Class
Different every day, this medium-intensity class will tone your body, push you that little bit further and lift your strength and fitness to new heights. Get fit and strong while having fun.
Morning Blast
A class to wake you up with high-intensity interval training and challenging resistance exercises. Always different, always fun – a go-hard-and-go-home class to start your day with a blast!
Strong heart, strong body
Aimed at those new to exercise, this entry-level class will increase your aerobic capacity as well as build muscle. Basic exercises to improve your strength, stability and functionality in daily activities.
Activate
A mainly mat-based whole-body workout that will challenge your core, balance and flexibility through controlled movements. Lengthening and strengthening exercises will increase your stability and range of motion, improve your posture, release tension and allow you to move freer in your day-to-day activities. You will leave feeling stronger, lighter, more centred and energised.
For more information about our fitness classes, email nac@noosa.qld.gov.au, or visit the gym and take a tour.